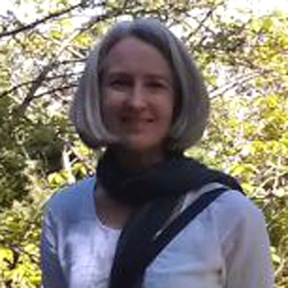 Holly is a Chiropractor, Biodynamic Craniosacral Therapist, health and gardening enthusiast, and yoga teacher.
Holly is a graduate of Northwestern College of Chiropractic.  She has been studying and practicing wholistic healing for 26 years and brings a depth of knowledge and compassion to her work.  She has studied a wide variety of wholistic health care systems.  In 2001, she completed a 700 hour professional training in Craniosacral Biodynamics and is a registered Craniosacral Therapist with the Craniosacral Therapy Association of North America.  She has completed professional trainings in Polarity Therapy, an energy based healing system developed by Randolph Stone D.C., D.O. as well as Hakomi Therapy, a form of body-centered psychotherapy.
Holly is committed to serve others in their pursuit of health and well being by utilizing the gentle methods of Biodynamic Craniosacral Therapy to assist and facilitate the healing process within each person.  She is also an experienced health coach, and has helped many people make lifestyle changes to improve their health.
She lives in rural Wisconsin and spends her time enjoying the great outdoors, gardening, hiking, biking, cross country skiing, and painting, and is a long time practitioner of yoga and meditation.
For questions, or to schedule a Craniosacral Therapy session, contact Holly directly at 612-558-4646 or dr.hollywalsh@gmail.com.