We offer a variety of unique events and workshops throughout the year in addition to our regular Wellness Services, including daily Yoga Classes and weekly Tai Chi Classes. The events below change seasonally. TO REGISTER for any of our classes, stop in at the studio or online here.
————————————————
Yoga +Acupuncture
Thursday, February 20, 6-7:30 pm | Stillwater Studio
Marilyn Calver leads a restorative class that ends with a fully supported, extended savasana. In this fully relaxed state, your body's ability to repair is at its peak, making savasana a great time to receive acupuncture. Aimee Van Ostrand, L.Ac. will come around to place a few needles to address your specific health issues while you blissfully rest on your yoga mat.
Feel the combined healing power of these two modalities together. Whether you are struggling with physical health issues or emotional health issues, this class is for you.
No experience necessary, perfect for beginners or seasoned yogis. Wear comfortable clothing. Yoga mats are provided but feel free to bring your own. Cost is $30 and space is limited. Registration here.
————————————————
Somatic Experiencing Workshop
Sunday, February 23, 2-5pm | White Bear Lake Studio
Come for an afternoon of learning about your nervous system and how Somatic Experiencing can help you rediscover yourself. This workshop will help you navigate stress, anxiety, chronic pain, depression, and trauma with more resilience, composure, confidence and increased presence in your relationships.
Instructor Mike McMahan will help you learn the basics of how your nervous system functions, go through some visualization exercises and begin to tune into your body's wisdom. We'll move at a comfortable pace and allow plenty of questions so anyone looking to learn a little more about healing their own body will come away with something no matter your knowledge base already.
Wear something comfortable you can move in. Bring your yoga mat, otherwise we have mats at the studio. Chairs are also available, if you prefer not to be on the floor. Let us know if you have mobility issues so we can accommodate you.
Prepayment is not required. However, please shoot us a message or connect with Mike or Aimee, so we get you on the list. Suggested donation of $40, cash/check to Healing Within payable at the time of class. Tea and snacks provided.
————————————————
Tiny Tai Chi
Ages 4-6 years | Fridays, January 10-March 6 | White Bear Lake Studio Level 1 4:30-5pm | Level 2 5:15-5:45 p.m.
This is an 8-week Tai Chi class for kids ages 4-6. In Level 1 kids will learn the first half of the Yang Style 24-Form. Level 2 will cover the second half of the Yang Style 24-Form. Each class begins with breathing practices which are used during the form itself as well as independently for emotion regulation and stress reduction. Parents join for the last five minutes of class to learn what we've shared. Students must be completely potty trained and have experience in a classroom setting.
To register for Tiny Tai Chi, stop by our studio or sign up online here.
Nico has been practicing Tai Chi, Yang Style for three years under Aimee Van Ostrand and assists with teaching tai chi classes at the Stillwater studio, often joining the group Saturday mornings for Tai Chi by the River.
Nico holds a bachelor's degree in Social Justice and Women's Studies from Hamline University and has 7 years of experience teaching and writing curriculum. Currently, Nico teaches PreK in the White Bear Lake school district and is the Assistant Director of Religious Education at WBUUC and uses moving meditation daily in the classroom. Nico is in awe of the speed and eagerness with which young kids soak up moving meditation practices and is excited to continue sparking interest in these lifelong practices.
————————————————
Monthly Meditation Practice with Marilyn
Monday, February 17 and/or March 16, 6:30-7:30pm | Stillwater Studio
An opportunity to explore different meditation and breathing practices and the power of collective consciousness. Group meditation is one of the best ways to help sustain your practice. Join our growing community. Guided practice led by Marilyn Calver, yoga and meditation teacher with more than 20 years experience. Drop in class. No pre-registration required. $20 at time of class. Cash or checks appreciated.
————————————————
Tai Chi Yang Style, 24 Form with Aimee
Saturdays 10:15-11:15am February 1 to April 18 | Stillwater Studio
If you are looking to start a life long practice of low impact movement and meditation, this is the class. This beginner's 10-week class runs February 1 to April 18. (No class March 14 or April 4.)
Aimee will go through the movements of her modified Yang Style, short form step by step. This form will increase range of motion, and improve balance and mental concentration. By the end of the 10 weeks you'll know this entire traditional form. With continued practice, you'll begin to attach breath to the movement and cultivate the sensation of Qi energy. It will slowly transform into a lifelong moving meditation practice.
It is strongly recommended that you take the full 10-week series, as each class builds on the previous class. However, drop-ins are warmly welcomed, especially if you've taken Aimee's class before and are looking for a refresher. The drop-in rate is $15 per class, payable at the time of class. To register for the full 10-wk Tai Chi class, stop by the studio or sign up online here
Mark your calendars: World Tai Chi Day – Stillwater is Saturday, April 25, 10-11:30 am
————————————————
Restorative Yoga with Marilyn
Tuesday, February 25, 5:30 – 6:45 pm | Stillwater Studio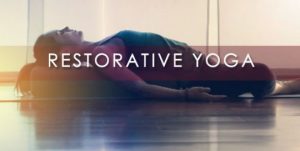 Deeply relaxing and nourishing class. Suitable for everyone including absolute beginners. You will rest in fully supported postures and experience a deep release of tension, stiffness and stress. Guided breathing further helps to quiet the mind and soothe the nervous system. You will leave feeling rested, renewed, and replenished.
This class is usually offered the last Tuesday evening of every month. Use your punch cards or register online here.
————————————————
Meditation for Everyone: 4-week series with Marilyn
Wednesdays, January 22 & 29, February 5 & 12, 6:30-7:30pm | White Bear Lake Studio
Who doesn't want to reduce stress, think more clearly, be happier and enjoy better health? These are just some of the benefits of meditation. It seems so simple: Sit still and be quiet. So why aren't we all doing it? Turns out it's not so simple.
Meditation is not so much a state of mind as a collection of skills that can be learned and, with practice, returned to whenever you choose. Participants will receive handouts and recordings of the meditations and practices each week for home practice. You'll learn techniques to help set the stage for a successful meditation practice. Each week we'll look at what's getting in the way and how to overcome these obstacles.
All are welcome but pre-registration is required. Stop in at the studio or register online here
Teacher Marilyn Calver has been a student, teacher and practitioner of yoga and meditation for more than 20 years. The studio is street-level and wheelchair accessible. Chairs, mats, bolsters and blankets for sitting are available for use.
————————————————
Balm to the HEART
Thursday, February 13, 5:30-7:30pm | White Bear Lake Studio
In this make-and-take class, Amber Moore, L.Ac., will introduce several basic herbs frequently used in salves, give an overview of how they are used to infuse oils, and then walk you through the process of creating your own healing balm to bring home with you.
Healing salves are used to soothe dry, irritated skin, insect bites, hives, and psoriasis; for healing minor scrapes and bruises and soothing sunburn; for relieving muscle tension and joint pain; or for helping to heal cold sores and other viral skin infections.
Discover how you can invite the power and inspiration of local herbs into your life and share it with those you love.
$30 covers class and supplies to make and take home a salve of your own. Pre-registration is required so we have enough materials for the class. Stop by at the studio or register online here.
Bring a friend or loved one!
Amber Moore, L.Ac. sees patients in community acupuncture Mondays and Wednesdays at our White Bear Lake studio. Schedule appointments with her online at: healingwithinacupuncture.com
—————————————
iRest Yoga Nidra Meditation
Sundays, February 9 and March 15, 3-4:15pm | Stillwater Studio
Join Liz Stoeckmann for a monthly iRest Yoga Nidra Meditation. Sign up for one or both. Use them to "check in" along side your home practice OR if you're new, to give it a try.
What is iRest? Based on classic meditation teachings adapted to suit modern life, the program helps you meet each movement with peace and well-being. Practiced and taught by thousands of people in a wide range of settings. iRest is simple to grasp. And once learned, becomes a set of tools for life.
You benefit with improved sleep, chronic pain relief, decreased stress, depression and anxiety, deeper yoga practice, and better health and well-being. Learn more at https://www.irest.org/
No yoga or meditation experience is needed. Dress comfortably and bring a yoga mat. Cost is $25 per class. To register, stop in at the studio or online here.
A Wisconsin native, Liz, owner of Mindful Bliss Yoga, is a Yoga Alliance 200 hour registered yoga teacher and a certified iRest® Yoga Nidra Meditation instructor who brings yoga and meditation to military and civilian communities. A practitioner for more than 10 years, Liz is experienced in restorative yoga, meditation, senior yoga, yoga life coaching, yin and children's yoga. She makes yoga accessible for all walks of life. Liz also provides trauma-based iRest® to military servicemembers/first responders, their families, and secular environments. Follow Liz at facebook.com/mindfulblissyoga

Healing QiGong: 8-wk series
Tuesdays, 8-weeks beginning January 14, 1:30-3pm | Stillwater Studio
QiGong is an ancient Chinese healing methodology that seeks to balance, unblock and increase the flow of Qi/energy throughout the body. Instructor Dr. David Teschler will lead this series as an introduction to Qigong. You will learn postures and breath to establish an ongoing practice for self-healing.
Class will cover the Eleven Practice Postures:
Pushing the Universe
Shooting the Bow & Arrow
Pressing Heaven & Earth
Stirring Qi
Holding the Golden Bell
Wind Blowing Leaves
Bear Shakes Head
Golden Eagle Spreads Wings
Crane spreads wings
Throwing Straw
Scooping Rice
Participants are encouraged to take the full 8-wk series. However, drop ins are welcome. Drop in rate is $15 per class. Cash or check only, payable at class. Wear something comfortable you can move in.
To register for the 8-week Healing QiGong series, stop in at our studio or online here