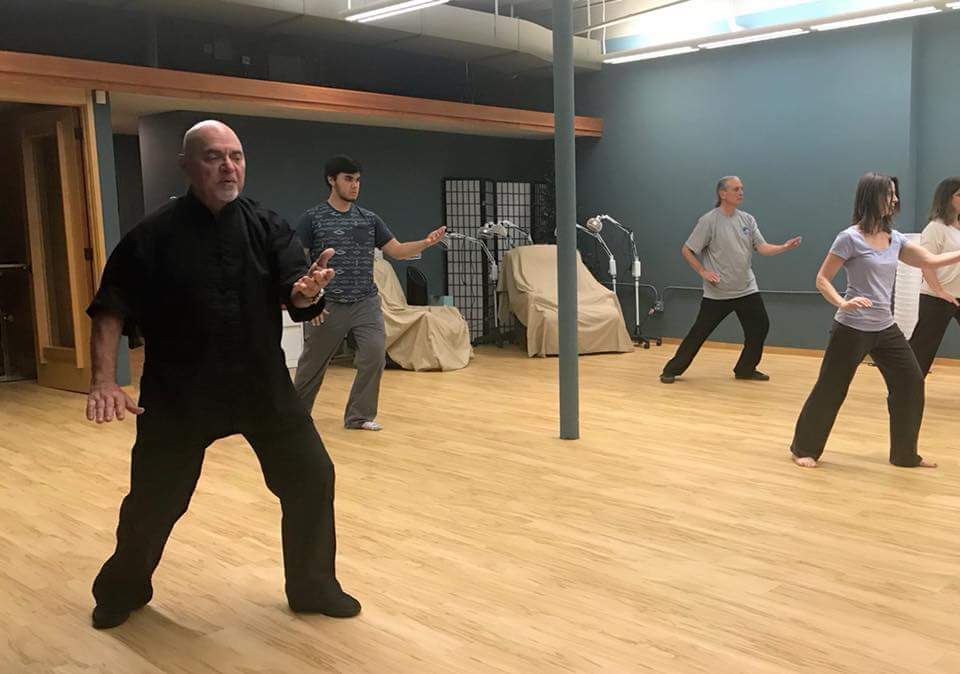 Our Tai Chi Program
Tai Chi Yang Style River Bluff 12-Form w/David
Tuesdays, 7:15 – 8:30 pm     Stillwater Studio
You will begin each class with traditional qi gong warm-up exercises. David will then slowly guide you through the Yang Style 12-Form. He will go deeper into the bases of tai chi principles, the tai chi stance, footwork, and breathwork.  David incorporates martial arts applications in his classes.
David is a 10th Degree Master Instructor in Tai Chi Chuan; trained under Grand Master, Chou Yuen-Li at the Institute of Physical Culture in Shanghai, Peoples Republic of China, and recognized by the Martial Arts Masters World Federation. Additionally, he is a Fifth Degree Black Belt in Kenpo Karate, a Third Degree Black Sash in Bok Mei Pai, and a Second Degree Black Belt in Southern Preying Mantis, Kung Fu.
Wear comfortable clothing you can move in. No outdoor shoes on the studio floor, so wear socks or bring indoor shoes.  For all levels.  No tai chi experience necessary.
This is an ongoing class. Tuition is $50/month. To sign up, stop in at our studio or register here.
---
Seated Tai Chi w/Kendra
Wednesdays  1:00 – 2:00  White Bear Lake Studio
This is an ongoing, all-levels tai chi practice that begins seated, then stand as you are able. No tai chi experience necessary.
This seated class will introduce tai chi principles, as well as tai chi warm ups and cool downs. Students will learn a complete form that can be practiced anywhere.
Kendra Liu has been practicing tai chi for seven years and is a certified tai chi instructor. She uses this moving meditation as part of her daily routine and a tool to manage her own health struggles living with Multiple Sclerosis. She enjoys the practice and says that it helps with balance, both mentally and physically.
This class is for those with mobility issues, recovering from a health event, living with a neurological condition, or for those looking to start a safe life-long practice of movement. 
If you are under the care of a physician, please seek approval prior to participating in class.
Wear comfortable clothing you can move in. Socks or indoor shoes only on our studio floor.
In the spirit of community acupuncture, seated tai chi classes are on a sliding fee scale, $12-$20/class. Pay what you can to practice regularly.  Place cash/check in the white mailbox on the wall used in community acupuncture.