We offer a variety of unique events and workshops throughout the year in addition to our regular Wellness Services, including daily Yoga Classes and weekly Tai Chi Classes. The events below change seasonally.
TO REGISTER for any of our classes, stop in at the studio or online
here
.
---
Yoga +Acupuncture
Thursday, October 24th  6:00 – 7:30 pm  Stillwater Studio
Marilyn Calver leads a restorative class that ends with a fully supported, extended savasana. In this fully relaxed state, your body's ability to repair is at its peak, making savasana a great time to receive acupuncture. Aimee Van Ostrand, L.Ac. will come around to place a few needles to address your specific health issues while you blissfully rest on your yoga mat.
Feel the combined healing power of these two modalities together. Whether you are struggling with physical health issues or emotional health issues, this class is for you.
No experience necessary, perfect for beginners or seasoned yogis. Wear comfortable clothing. Yoga mats are provided but feel free to bring your own. $30.00. Space is limited. Class does fill up. To register, stop by at the studio or online here.
---
Tiny Tai Chi, Level 1  (Ages 4 – 6)
Fridays 4:30 p.m. – 5:00 a.m.   Sept 20th – Nov 22nd  White Bear Lake Studio
This is an 8-wk kids Tai Chi class that runs from September 20th to November 22nd. No classes October 18th and 25th. Kids ages 4-6 will learn the first half of the Yang Style 24-form. Each class begins with breathing practices which are used during the form itself as well as independently for emotion regulation and stress reduction. Parents join for the last five minutes of class to learn what we've shared. Students must be completely potty trained and have experience in a classroom setting.
About the Instructor:
Nico has been practicing Tai Chi, Yang Style for three years under Aimee Van Ostrand and assists with teaching tai chi classes at the Stillwater studio, often joining the group Saturday mornings for Tai Chi by the River.
Nico holds a bachelor's degree in Social Justice and Women's Studies from Hamline University and has 7 years of experience teaching and writing curriculum. Currently, Nico teaches PreK in the White Bear Lake school district and is the Assistant Director of Religious Education at WBUUC and uses moving meditation daily in the classroom. Nico is in awe of the speed and eagerness with which young kids soak up moving meditation practices and is excited to continue sparking interest in these lifelong practices.
To register for Tiny Tai Chi, stop by our studio or online here.
---
Meditation for Everyone – A Four Week Program
Mondays, October 7th – October 28th 6:30- 7:30 p.m.
Who doesn't want to reduce stress, think more clearly, be happier and enjoy better health? These are just some of the benefits of meditation. It seems so simple. Sit still, be quiet and meditate. So why aren't we all doing it? Turns out its not so simple. Perhaps you have tried it, become frustrated and told yourself you just can't meditate?
Meditation is not so much a state of mind as a collection of skills that can be learned and with practice returned to whenever you choose.
In this program Marilyn will teach you techniques to help set the stage for a successful meditation practice. Each week we will look at what's getting in the way and how to overcome these obstacles.
Participants will receive handouts and recordings of the meditations and practices each week for home practice.
To register for the Meditation class, stop by the studio or online here.
Tai Chi Yang Style, 24 Form
Saturdays 10:15 – 11:15 a.m. October 26th to January 11th Stillwater Studio
If you are looking to start a life long practice of low impact movement and meditation, this is the class. This beginner's 10-wk class runs October 26th to January 11th. No class Nov. 30th and Dec. 28.
Aimee will go through the movements of her modified Yang Style, short form step by step. This form will increase range of motion, improve balance, and mental concentration. By the end of the 10 weeks you will know this entire traditional form. With continued practice, you begin to attach breath to the movement and cultivate the sensation of Qi energy. It will slowly transform into a life-long moving meditation practice.
It is strongly recommended that you take the full 10 week series, as each class builds on the previous class. However, drop-ins are warmly welcomed, especially if you've taken Aimee's class before and are looking for a refresher. The drop-in rate is $15 per class, payable at the time of class. To register for the full 10-wk Tai Chi class, stop by the studio or online here
This is the tai chi form Aimee leads by the river on Saturday mornings in Lowell Park in Stillwater. She only teaches this form twice a year in Stillwater. The second session will run Saturday mornings Feb. to April 2020.
Restorative Yoga
Tuesday, October 29th 5:30 – 6:45 p.m. Stillwater Studio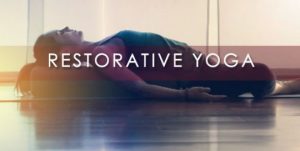 Deeply relaxing and nourishing class. Suitable for everyone including absolute beginners. You will rest in fully supported postures and experience a deep release of tension, stiffness and stress. Guided breathing further helps to quiet the mind and soothe the nervous system. You will leave feeling rested, renewed, and replenished.
This class is offered the last Tuesday evening of every month.
Use your punch cards or register online here.
Drum Making Workshop
Sunday, November 24th 12:00 – 4:00 Stillwater Studio
Spend the afternoon relaxing with us making your own drum. After you carefully select your wood frame and deer hide, we will take a few moments of reflection to connect to this medium and set our intentions for our new sacred drum. After the hides are laid out and the drum circles are cut, the hides will be bathed in a walnut stain creating a pattern unique for each person. Drum maker Wayne Manthey guides us through this beautiful process. To learn more about Wayne, go to his website at: waynemantheydrummaker.com
If you'd like, bring a stone or smooth crystal that have meaning or a strong healing energy for you OR if you prefer, choose a stone from our studio community zen garden. It will be inserted into the handle of the back of the drum.
You will choose between a 13″ drum or a 16″ drum at time of registration.
You, along with your new drum are invited to join us at the beginning of the new year in celebration with a healing drumming circle led by musician and healer, Sherry Strand.
To register for the Drum Making Workshop, stop by our studio or online here.