TO REGISTER for any of our classes, stop in at the studio or  online 
here
.
---
Yoga + Acupuncture 
Thursday, April 18, 2019   6:00 – 7:30 p.m.
Marilyn Calver leads a restorative class that ends with a fully supported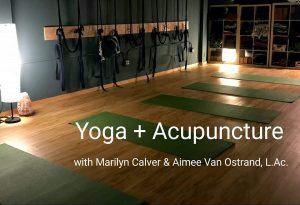 extended savasana. In this fully relaxed state, your body's ability to heal is at its peak; making savasana a great time to receive acupuncture. Aimee Van Ostrand, L.Ac. will come around to place a few needles to address your specific health issues while you blissfully rest on your mat.
Feel the combined healing power of these two modalities together.
No experience necessary, perfect for beginners or seasoned yogis. Wear comfortable clothing. Yoga mats are but feel free to bring your own. $30.00.  To register, stop at our studio or online here.
---
Meditation for Everyone: Four Week Program
Thursdays,  April 26th, May 2nd, May 9th, and May 16th  6:30 – 7:30 p.m.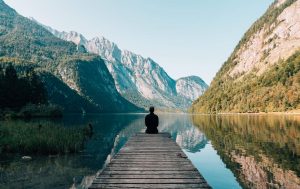 It seems so simple. Sit still, be quiet and meditate. Who doesn't want to reduce stress, think more clearly, be happier and enjoy better health? So why aren't we all doing it? Turns out its not so simple. Perhaps you have tried it and struggled with not having enough time, monkey mind, being too tired? These are just some of the typical challenges that get in the way.
In this program you will learn techniques to help set the stage for a successful meditation practice wherever you choose. Each week we will look at what's getting in the way and how to overcome these obstacles. The work will involve individual and group support. Participants will receive handouts and recordings of the mediations each week for home practice.
Meditation is not so much a state of mind as a collection of skills that can be learned and with practice returned to whenever you choose.
All are welcome.  Chairs are an option, if you can not or prefer not to sit on the floor.  To register, stop in or online here.
Scholarships are available. Please see Marilyn Calver to apply.
---
Tai Chi Yang Style River Bluff 12-Form w/David
Tuesdays, 7:15 – 8:30 pm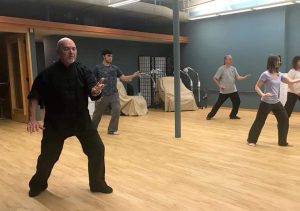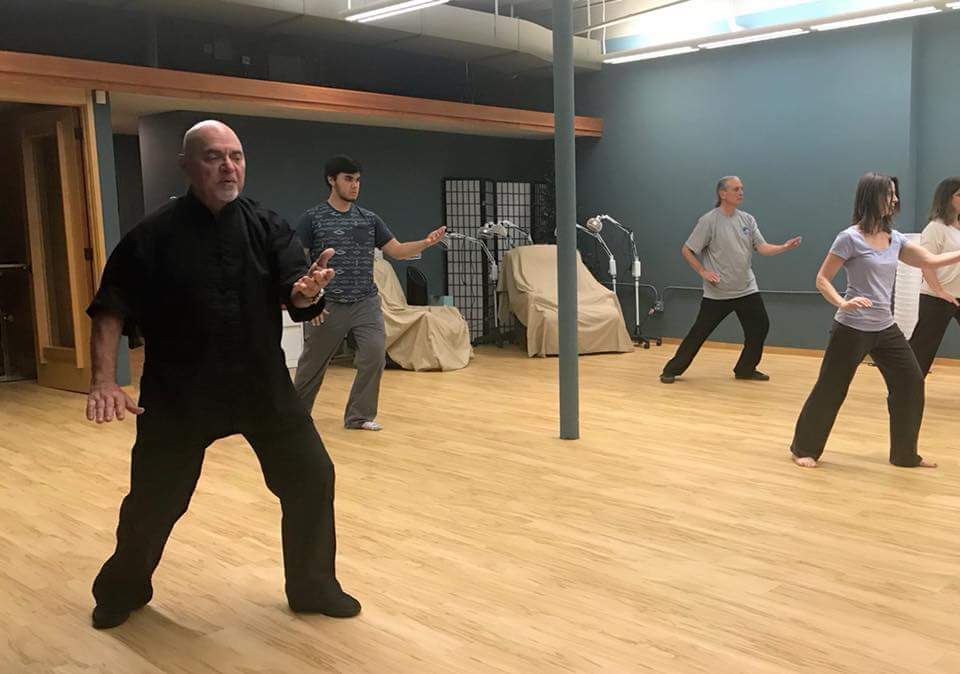 You will begin each class with traditional qi gong warm up exercises. David will then slowly guide you through the Yang Style 12-Form. He will go deeper into the bases of tai chi principles, the tai chi stance, footwork, and breathwork.  David incorporates martial arts applications in his classes.
David is a 10th Degree Master Instructor in Tai Chi Chuan; trained under Grand Master, Chou Yuen-Li at the Institute of Physical Culture in Shanghai, Peoples Republic of China, and recognized by the Martial Arts Masters World Federation. Additionally, he is a Fifth Degree Black Belt in Kenpo Karate, a Third Degree Black Sash in Bok Mei Pai, and a Second Degree Black Belt in Southern Preying Mantis, Kung Fu.
Wear comfortable clothing you can move in. No outdoor shoes on the studio floor, so wear socks or bring indoor shoes.  For all levels.  No tai chi experience necessary.
This is an on going class. Tuition is $50/month. To sign up, stop in at our studio or register online here.
---
World Tai Chi Day – Stillwater 
Saturday, April 27th , 2019.  10:00 – 11:00 a.m.
This is our fourth year hosting World Tai Chi Day – Stillwater. We will join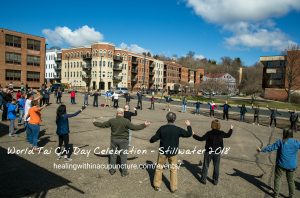 hundreds of cities, spanning 80 nations in this beautiful moving meditation. Join us in the practice to provide a healing vision for our community and the world.
Local tai chi instructors including Aimee Van Ostrand, L.Ac., John Kerschbaum, Dr. David Teschler, Emily Jacobson, L.Ac., and Dave Sullivan, L.Ac. will lead the practice on the beautiful terrace of the Stillwater Public Library! Come to watch or participate. All are welcome. This is a FREE and family-friendly event. World Tai Chi Day is always the last Saturday in April.
WTCD – Stillwater T-Shirts
World Tai Chi Day – Stillwater T-shirts are available! Choose from navy OR royal blue (both colors have white lettering and design), in Mens or Ladies styes.  $18 Pre-ordered before March 17th. OR $20 afterwards and during Event.  If interested, email Aimee with your size/color preference at: aimee@healingwithinacupuncture.com