TO REGISTER for any of our classes, stop in at the studio or online
here
.
Restorative Yoga 
Tuesday,  August 27th    5:30 – 6:45 p.m.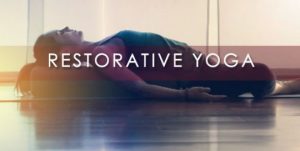 Deeply relaxing and nourishing class. Suitable for everyone including absolute beginners. You will rest in fully supported postures and experience a deep release of tension, stiffness and stress. Guided breathing further helps to quiet the mind and soothe the nervous system. You will leave feeling rested, renewed, and replenished.
This class is offered the last Tuesday evening of every month.
Use your punch cards or register online here.
---
Yoga +Acupuncture
Thursday, September 12th  6:00 – 7:30 pm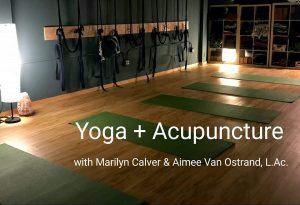 Marilyn Calver leads a restorative class that ends with a fully supported, extended savasana. In this fully relaxed state, your body's ability to repair is at its peak, making savasana a great time to receive acupuncture. Aimee Van Ostrand, L.Ac. will come around to place a few needles to address your specific health issues while you blissfully rest on your yoga mat.
Feel the combined healing power of these two modalities together. Whether you are struggling with physical health issues or emotional health issues, this class is for you.
No experience necessary, perfect for beginners or seasoned yogis. Wear comfortable clothing. Yoga mats are provided but feel free to bring your own. $30.00. Space is limited. Class does fill up. To register, stop by at the studio or online here.
---
Tai Chi by the River
Saturday 9:00 a.m. – 10:00 a.m. Lowell Park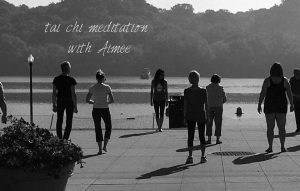 Join Aimee for an informal gathering to find stillness through movement and breath.  She leads her modified Yang Style, a short form in its entirety. Outdoors, she encourages bigger movements in the postures to "use the space" in this moving meditation.
Come as you are to watch or join in.  Donations are accepted and go to help a tai chi friend with catastrophic medical expenses.
Afterward, plan to join us for coffee and conversation at a local coffee shop.
For tai chi updates, follow our Facebook Events or get on Aimee's tai chi email list by sending her a note at aimee@healingwithinacupuncture.com
---