We offer a variety of unique events and workshops throughout the year in addition to our regular
Wellness Services
, including daily 
Yoga Classes
and weekly
Tai Chi Classes
. The events below change seasonally. You can register online for events and classes
here
.
---
Functional Movement Classes with Marilyn
Thursdays 2:00 pm – 3:00 pm.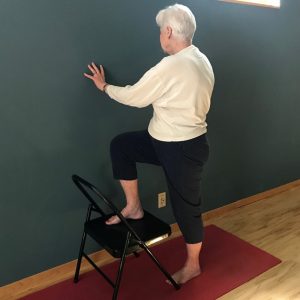 Gentle, therapeutic movement and exercise designed to alleviate pain and help make everyday activities safer and accessible. The movements are based on real-world situational bio-mechanics and work on building strength, balance, co-ordination and a greater range of body motion. We will also address the mind/body connection with techniques for stress reduction and relaxation.  Overall these healing modalities will create more vitality, relieve discomfort and help you feel better on a daily basis.
These small group classes will be structured to the needs of each student with a maximum of 5 people per class to ensure proper space, time and attention for all.
Who is this class for? Anyone dealing with range of motion issues and pain that make day to day activities challenging. Our studio is wheelchair and walker accessible. The use of props, including chairs, make this a safe, accessible class.
Thursdays 2:00 pm -3:00 pm
Pre-registration required, click here.
Cost $25 per class
---
Yoga for Stress and Anxiety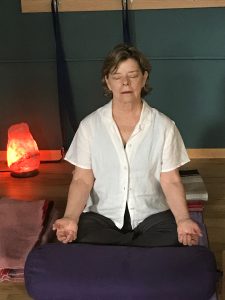 Second Mondays of every month. 6:00 – 7:00 pm
Yoga for stress and anxiety. Learn how to quiet the mind, reduce emotional reactivity, increase resilience and breathe your way to better health.
Breathing Techniques
Conscious Relaxation
Meditation
Gentle Movement
Self-care Techniques
Class is led by Marilyn Calver.  No yoga experience necessary. Class is accessible to all. Chairs are available for those who cannot or prefer not to be on the floor. Yoga mats are provided or bring your own. Wear comfortable clothing. To register, stop in or online here.
Restorative Yoga +Acupuncture
Thursday, August 16th    6:00 – 7:30 pm
Marilyn leads a restorative class that ends with a fully supported, extended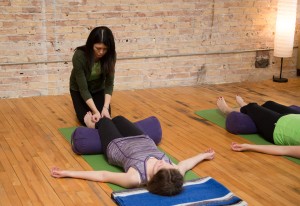 savasana.  In this fully relaxed state, your body's ability to repair is at its peak, making savasana a great time to receive acupuncture. Aimee will come around to place a few needles to address your specific health issues while you blissfully rest on your yoga mat.
Feel the combined healing power of these two modalities together.
No experience necessary, perfect for beginners or seasoned yogis. Wear comfortable clothing.  Yoga mats are provided but feel free to bring your own. $30.00. Space is limited. To register, stop in or online here.
---
Tai Chi by the River
Saturdays, May – October 2018   9:00 – 10:00 am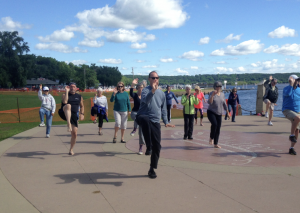 Join us to practice Aimee's modified Yang Style, short form. All are welcome to watch or to participate. FREE.  Donations are appreciated, but optional. If you get something out of the practice, leave something in the jar.
To be included on the email list, send an email to: aimee@healingwithinacupuncture.com. or follow us on Facebook to get the latest updates.
---