Yoga + Acupuncture Workshop    Thursday, February 16th, 2017    6:00 – 7:30 p.m.
We're taking savasana to a whole new level!
Marilyn Calver leads a restorative class that ends with a fully supported, extended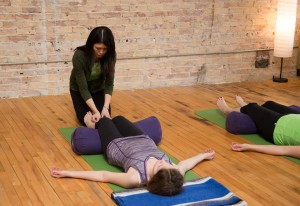 savasana. Yes, an extended savasana!  In this fully relaxed state, your body's ability to repair is at its peak, making savasana a great time to receive acupuncture. Aimee will come around to place a few needles to address your specific health issues while you blissfully rest on your yoga mat.
Feel the combined healing power of these two modalities together.
No experience necessary, perfect for beginners or seasoned yogis. Wear comfortable clothing.  Yoga mats are provided but feel free to bring your own. The workshop is held in the main space of our community acupuncture studio in Stillwater. $25.00. Class is FULL, registration is closed.
Tai Chi Classes  Saturdays    9:00 – 10:00 a.m. with Aimee and 10:30 – 11:30 a.m. with Paul.
Tai Chi is practiced by millions of people in the parks and squares of China. The practice of tai chi is a series of silent, fluid, seamless slow-motion movements. Studies show regular practice supports good health and longevity.  It improves circulation, balance, mental focus and sense of well being.  It is a low impact, moving meditation. Classes are taught in the main space of the community acupuncture studio.  Watch for our group Saturday mornings, during the summer when we practice tai chi by the St Croix River at Lowell Park.
Aimee teaches The Yang Style, short form. The movement and breath work of this form can help quiet even the most active mind. The form can also be modified for a more physically and mentally challenging tai chi practice.  After this 10-wk class you will be prepared to join our free summer group practice in Lowell Park, by the St Croix River. Class runs February 11th to April 15th.This is a progressive class, each one builds on the previous one to commit the entire form to memory. Taking the full 10-weeks is strongly recommended.  Registration is open. $120 for 10 weeks or $15 drop-in, payable at time of class.
If you've taken Aimee's class previously or have experience with the Yang Style, short form, you are invited to stop in Saturday mornings at 9:00 to continue your practice with Aimee's current group. Donation accepted at the time of class.
Paul leads an on-going, low impact tai chi practice. This is for those with mobility issues, a health condition that limits range of motion, or recovering from a health event (requires doctor's approval).  The practice begins in a seated position and students will stand as they are able. This is a drop-in class, however an email to: aimee@healingwithinacupuncture.com prior to class is appreciated to accommodate special health needs. No experience necessary. Wear comfortable clothing. Class is offered with a $8 – $10 suggested donation payable at the time of class.
Paul also teaches tai chi at the Lake Elmo Library, Mondays and Thursdays 10:00 – 10:45; at Valley Access Studio, Tuesdays 6:30-7:30 pm; at the Woodbury YMCA, Wednesdays, 8:00-9:00 am; and at the Hudson YMCA, Sundays 9:30-10:30 am.
River Hills Harvest Elderberry Jelly
We have River Hills Harvest Elderberry Jelly at our Stillwater clinic.  Elderberry is rich in
flavonoids, making it an antioxidant powerhouse. It boosts immune function and is super tasty! $7.50 for 10 oz jar.