Looking Your Best Naturally      Tuesday, April 4th, 2017     6:00 – 8:00
Good health is crucial to feeling good and looking your best naturally.  In this class
Aimee will talk about how to slow signs of aging. She will discuss the effects of diet and stress on your health, and her favorite anti-aging secrets. You will try some of her favorite natural skin care products and of course, discuss why so many are doing acupuncture for Facial Rejuvenation!
Investment: $55. Upon completion of the class, the initial consultation fee for Facial Rejuvenation will be waived.
Space is limited. Pre-registration is required so that we have enough materials.
Register here
.
Restorative Yoga + Acupuncture     Thursday, April 20th, 2017     6:00 – 7:30 
Take savasana to a whole new level!
Marilyn Calver leads a restorative class that ends with a fully supported, extended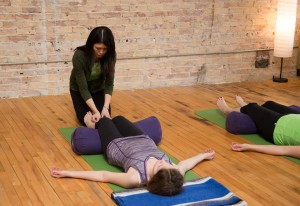 savasana.  In this fully relaxed state, your body's ability to repair is at its peak, making savasana a great time to receive acupuncture. Aimee will come around to place a few needles to address your specific health issues while you blissfully rest on your yoga mat.
Feel the combined healing power of these two modalities together.
No experience necessary, perfect for beginners or seasoned yogis. Wear comfortable clothing.  Yoga mats are provided but feel free to bring your own. Class location has been changed, it will be held around the corner at the yoga studio at Compass Center for Healing. $30.00. Register here.
Tai Chi Classes  Saturdays    9:00 – 10:00 a.m. with Aimee and 10:30 – 11:30 a.m. with Paul.
Tai Chi is practiced by millions of people in the parks and squares of China. The practice of tai chi is a series of silent, fluid, seamless slow-motion movements. Studies show regular practice supports good health and longevity.  It improves circulation, balance, mental focus and sense of well being.  It is a low impact, moving meditation. Classes are taught in the main space of the community acupuncture studio.  Watch for our group Saturday mornings, during the summer when we practice tai chi by the St Croix River at Lowell Park.
Aimee teaches The Yang Style, short form. The movement and breath work of this form can help quiet even the most active mind. The form can also be modified for a more physically and mentally challenging tai chi practice.  After this 10-wk class you will be prepared to join our free summer group practice in Lowell Park, by the St Croix River. Class runs February 11th to April 15th.This is a progressive class, each one builds on the previous one to commit the entire form to memory. Taking the full 10-weeks is strongly recommended.  $120 for 10 weeks. Registration is closed.  Drop-in practice for those who've learned the Yang Style, short form are welcome. Donations are accepted at time of class.
If you've taken Aimee's class previously or have experience with the Yang Style, short form, you are invited to stop in Saturday mornings at 9:00 to continue your practice with Aimee's current group. Donation accepted at the time of class.
Paul leads an on-going, low impact tai chi practice. This is for those with mobility issues, a health condition that limits range of motion, or recovering from a health event (requires doctor's approval).  The practice begins in a seated position and students will stand as they are able. This is a drop-in class, however an email to: aimee@healingwithinacupuncture.com prior to class is appreciated to accommodate special health needs. No experience necessary. Wear comfortable clothing. Class is offered with a $8 – $10 suggested donation payable at the time of class.
Paul also teaches tai chi at the Lake Elmo Library, Mondays and Thursdays 10:00 – 10:45; at Valley Access Studio, Tuesdays 6:30-7:30 pm; at the Woodbury YMCA, Wednesdays, 8:00-9:00 am; and at the Hudson YMCA, Sundays 9:30-10:30 am.
World Tai Chi Day Celebration 10:00 – 11:00   Saturday, April 29th, 2017  Lowell Park
Join us by the St Croix River to celebrate World Tai Chi Day! Each year, on the last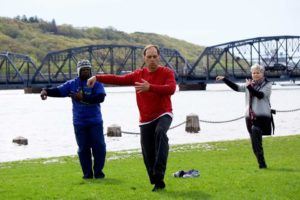 Saturday of April at 10:00 am local time, hundreds of cities, spanning 80 nations worldwide gather to breathe together and provide a healing vision for our world through the practice of tai chi.
Everyone is welcome. This is a FREE and family-friendly event. No experience or equipment necessary. Wear comfortable clothing and shoes. Come to watch or join in!
Aimee and Paul will be there to lead in the practice, along with John Kerschbaum who practices the Chen Style, long form in Bayport.