Restorative Yoga + Acupuncture  Thursday, June 15th     6:00 – 7:30 p.m.
Our first Y+A at our new location!
Marilyn leads a restorative class that ends with a fully supported, extended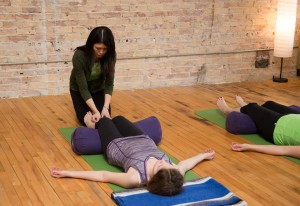 savasana.  In this fully relaxed state, your body's ability to repair is at its peak, making savasana a great time to receive acupuncture. Aimee will come around to place a few needles to address your specific health issues while you blissfully rest on your yoga mat.
Feel the combined healing power of these two modalities together.
No experience necessary, perfect for beginners or seasoned yogis. Wear comfortable clothing.  Yoga mats are provided but feel free to bring your own. $30.00 Registration will open soon.
Tai Chi by the St Croix River            Saturdays     9:00 – 10:00 a.m.       Lowell Park
Tai chi is intended to be practiced outdoors in large groups. Whether you've had experience with the Yang Style, short form, or you simply enjoy watching tai chi, come join us!  On beautiful Saturday mornings, Aimee leads the group in the practice. Meet just north of the gazebo in Lowell Park. If you are interested, email Aimee at: aimee@healingwithinacupuncture.com or just show up.  Notifications and cancellations are  posted here and the Healing Within Facebook Page. Donations are optional, if you get something out of the practice, leave something in the envelope.