We offer a variety of unique events and workshops throughout the year in addition to our regular
Wellness Services
, including daily 
Yoga Classes
and weekly
Tai Chi Classes
. The events below change seasonally. You can register online for events and classes
here
.
---
World Tai Chi Day
Saturday, April 28th,  10:00 – 11:00 a.m. Lowell Park
Join us for our third annual World Tai Chi Day – Stillwater.  Local Tai Chi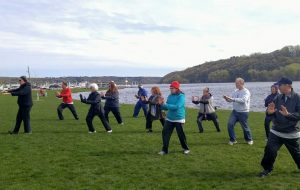 instructors will lead in the practice by the beautiful St Croix River to join the world in the practice.  Come to watch or participate. This is a FREE and family-friendly event.
Instructors:
Aimee Van Ostrand, L.Ac.
John Kerschbaum
Dr. David Teschler
Emily Jacobson, L.Ac.
Restorative Yoga +Acupuncture
Thursday, May 10th    6:00 – 7:30 pm
Marilyn leads a restorative class that ends with a fully supported, extended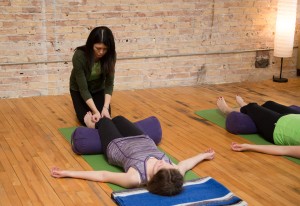 savasana.  In this fully relaxed state, your body's ability to repair is at its peak, making savasana a great time to receive acupuncture. Aimee will come around to place a few needles to address your specific health issues while you blissfully rest on your yoga mat.
Feel the combined healing power of these two modalities together.
No experience necessary, perfect for beginners or seasoned yogis. Wear comfortable clothing.  Yoga mats are provided but feel free to bring your own. $30.00. Space is limited.  Register online 
Community Acupuncture with Sounds of a Tibetan Healing Bowl
Friday, May 18th or Friday, June 1st  6:30 – 7:30
Aimee will offer community acupuncture with the healing sounds of a Tibetan singing bowl. These two sessions are specifically for those going through difficult life transitions – a life changing diagnosis, a loved one's passing, an end of a significant relationship, parenting a struggling child, caretaking an ailing parent, and other life challenges. During these times, our world can fill with grief, loss, fear, disappointment, and anger; emotions we must face and courageously work through. Come to rest, to heal for one hour. Find peace in stillness. Gain strength to continue on with your journey.
As with all  community acupuncture sessions, it is on a sliding fee scale.  This means you pay what you're able, suggested $30-$50.  Space is very limited. Registeration will open soon.  Pre-registration will be required.
Tai Chi by the River
Saturdays, May – October 2018   8:30 – 9:00 and 9:00 – 10:00 am
Join us in Lowell Park for tai chi by the St Croix River on beautiful Saturday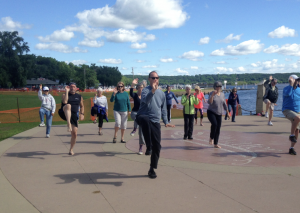 mornings.
8:30 – 9:00 Aimee will begin at the beginning of her modified Yang Style, short form. She will go through the form, step by step.
9:00 – 10:00 We practice the form in its entirety.
10:00 -11:00  We gather on the deck of the Daily Grind for coffee and conversation.
All are welcome to watch or to participate. FREE.  Donations are appreciated, but optional. If you get something out of the practice, leave something in the jar. To be included in the email list, send an email to: aimee@healingwithinacupuncture.com. or follow us on Facebook to get the latest updates.
MS150 Acupuncture Tent
Saturday, June 9th   11:30 – 8:30 p.m.  Hinckley, MN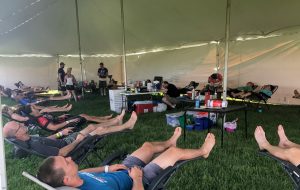 Aimee and Andy will be volunteering at the MS150 Bike Ride.  This is ther sixth year coordinating the MS150 Acupuncture Tent. It is at the half way rest stop in Hinckley, MN. Along with a team of volunteer acupuncturists and helpers, they provide free acupuncture to the riders and volunteers. If you are riding this year, be sure to stop in for free acupuncture!